Because they are both efficient and economical, sprayers are ideal for many surface coating applications on building sites and in workshops. There are still however some critics who believe in prejudices such as difficult control, strong overspray and the associated masking effort. The new High Efficiency Airless Technology (HEA) developed by the surface specialist Wagner convinces otherwise. HEA makes spray devices much easier to handle. An additional advantage: overspray is reduced by up to 55%.
The user-friendly HEA technology not only makes the daily work routine easier for professionals, but also ensures ocassual users and newcomers to machine coating can optimally control their spraying device. In terms of the nozzle design, the pre-atomiser nozzle is positioned before the actual atomisation nozzle in order to atomise the material at the same delivery volume and working speed found in classic airless devices – only at a lower pressure.
Up to 55% less overspray
Furthermore, the new HEA spray devices are especially well-suited to indoor use. Lower pressure results in up to 55% less overspray compared to conventional airless technology. This reduces the amount of masking required and thus saves time. Less overspray also means optimised material consumption.
Improved spray pattern
The lower pressure has a positive effect on the spray pattern. Due to the lower exit velocity of the material particles, the user has significantly more control over the surface coating, which results in fewer application errors. The particularly soft spray jet provides better covering capacity with overlapping spray paths and prevents paint accumulation at the beginning and end of each path.
Maximum control of the device
Another advantage of the reduced spray pressure is reduced recoil of the gun as well as the ability to apply the material with a lower trigger pressure. This contributes to fatigue-reduced working.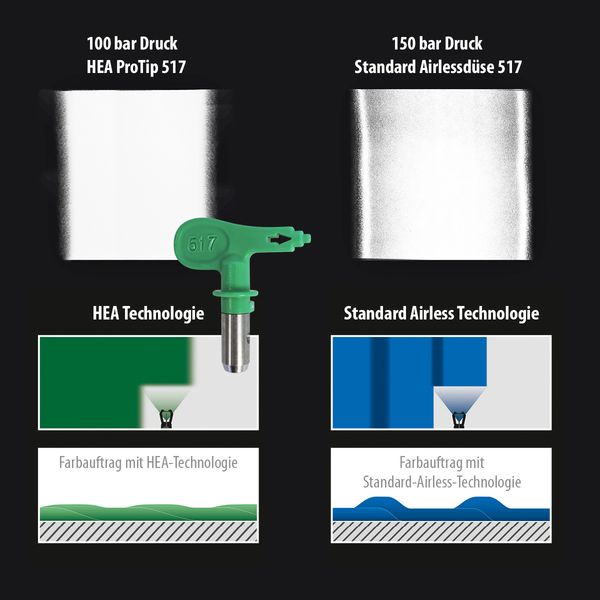 Long service life
At the same time, lower pressure leads to reduced stress on the machine and its components, resulting in less wear.
Suitable nozzles for the processing of different materials
HEA ProTip nozzles are available for all common professional nozzle holders and guns. They are available in various sizes and are therefore suitable for a wide variety of paints and varnishes. For low-viscosity materials, the range starts with a 211 nozzle size and extends up to a 621 nozzle size for more viscous materials such as dispersions and latex paints
A suitable pressure gauge from Wagner can be used to determine the optimum pressure range for the airless device when using HEA tips. Our tried-and-tested Spray Guide also contains useful information about pressure ranges, device settings and nozzle selection when processing different materials with HEA technology: http://sprayguide.wagner-group.com.