Oils and other lubricants are valuable materials in your workshops and are also a profit center. Therefore faulty dispense meters, busted lines and technicians spilling or using the wrong lubricants needs to be traced and controlled.
Fluid loss or waste = Less efficiency and profit
Incorrect billing
Monthly reconciliation
Running out of fluids (downtime)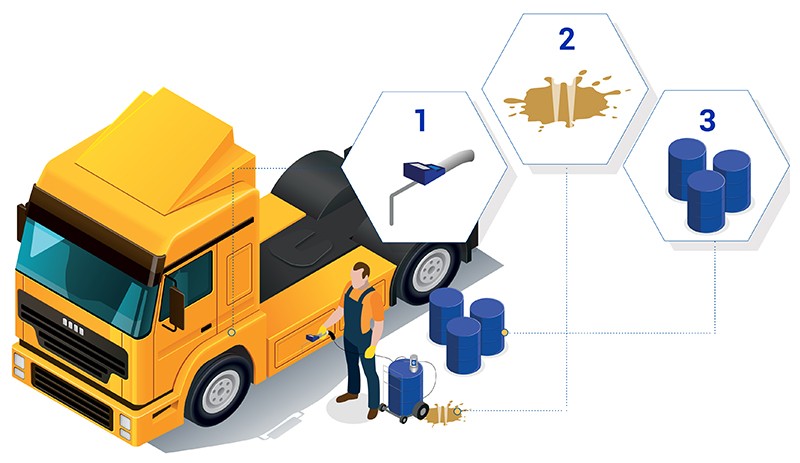 12%
IN TRUCK WORKSHOPS, ON AVERAGE 12%
OF THE TOTAL OIL VOLUME GETS
LOST AND IS NOT CHARGED
Renault Truck network chooses Pulse Pro for service workshops
Upgrading to a fluid management system designed specifically to address your most pressing workshop challenges is certainly important. Join several other Renault Truck sites which have already installed our innovative system.
Discover the biggest benefits of Pulse Pro.
"Easy & Suitable" according to Remi Lopez, IT Manager, RTDMS
"I chose to present the Graco Pulse solution to the Renault Trucks network because I found the innovative solution, easy to implement and suitable for all types of lubricants regardless of its container (tank, barrel, etc.)... the solution is therefore a real plus!"
"Efficient and innovative solution" according to Giovanni Maggipinto, Chef de Magazine, Bernard Trucks Metz
"the Pulse is an innovative, efficient and reliable system that I would recommend to all establishments, here at the Metz site we are proud to be equipped with it"
Simplicity
"The system is very user-friendly. It was not complicated to install, set-up and get running. In our workshop, it took little time for our 4 technicians to became more productive as soon as they started using the new dispense meters."
Transparency
"Another benefit of Pulse being in direct relationship with our ERP system - RTDMS, is that all information is shared between both systems. This allows total transparency on the quantity, quality of specific fluid used on a work orders and eliminates any possibility of forgetting - there is no more loss or mistakes."